Difference between revisions of "Mitt Romney"
Jump to navigation
Jump to search
 

(22 intermediate revisions by the same user not shown)
Line 1:
Line 1:
−

Running for the [[February 2012 Election|nomination]] as the Republican candidate for president.

+

[[]] as Republicancandidate for .

 
 
 
+
 
+
 
+
 
+
 
+
 
+
 
+
 
+
 
+
 
+
 
+
 
+
 
+
 
+
 
+
 
+
 
+
 
+
 
+
 
+
 
+
 
+
 
+
 
+
 
+
 
+
 
+
 
+
 
+
 
+
 
+
 
+
 
+
 
+
 
+
 
+
 
+
 
+
 
+
 
+
 
+
 
+
 
+
 
+
 
+
 
+
 
+
 
+
 
+
 
+
 
+
 
+
 
+
 
+
 
+
 
+
 
+
 
+
 
+
 
+
 

* [http://www.mittromney.com/s/mitt-romney-2012 Official campaign website]

 

* [http://www.mittromney.com/s/mitt-romney-2012 Official campaign website]

 
+
 
+
 
+
 
+
 
+
 
+
---
Latest revision as of 00:27, 14 February 2021
Mitt Romney is a politician and businessman. He is running as a Republican candidate for a U.S. Senate seat in the November 2018 Election, Utah.
Our overall impression of Mitt Romney is that he is a state-level socialist and a liar. We once would have considered him a good, if misguided, man, but the evidence suggests that he is of the same stripe as John McCain and Gary R. Herbert, both of whom have proven to be liars and scoundrels, and seem to be politicians Romney himself identifies with. He speaks a great deal of his faith, but our impression is that he is more interested in appearing good, and possibly feeling good, than actually representing any good principles.
He ran as the Republican candidate for President in the November 2012 Election and was a contender for the Republican nominee in the November 2008 Election. We voted for him, but since that time, have been rather displeased with how he has acted, and our impression is that Mitt Romney was probably never a good candidate.
2021
Mitt Romney voted to convict Donald Trump in his 2nd impeachment trial in February. Regarding that vote, Mitt Romney stated "President Trump is guilty of the charge made by the House of Representatives".[1]
2020
Mitt Romney voted to convict Donald Trump in his impeachment trial in February.[2]
2019
Mitt Romney rang in the new year with an attack on Donald Trump published in the Washington Post.[3]
Romney expressed a willingness to consider a carbon tax.[4]
It was revealed that Mitt Romney had a secret Twitter account with the name "Pierre Delecto". Pierre Delecto has actively promoted impeaching Donald Trump and defended Mitt Romney.[5]
Romney described that Joe Biden seemed to be "a man of honor".[6]
2018
In his declaration of candidacy, Mitt Romney elected to utilize both the convention method and the signature gathering method for getting on the ballot.
During a meeting with state delegates, Mitt Romney was asked about his tweet that implicitly praised Black Lives Matter and Antifa. It was reported that he appeared annoyed by the question and that his response was "I don't support Nazis. That was the point of that tweet. I meant one without it being a support of the other."[7] We have a hard time accepting that response when the literal meaning was, in fact, support for the other. Still, it is good to hear of him distancing himself from the position he seemed to take. A recording taken at this meeting provided further insights. While speaking broadly about the failure of the U.S. Government to follow the constitution, it seemed clear that his incomplete constitutionalism was fully capable of embracing progressive state governments, such that he effectively promotes state progressivism and a small federal government. ie. Many of the things that no government should be doing, he suggests that states should be doing rather than the federal government. This is, of course, much better than the status quo, but shows him to be grounded in the iconic paper and text of the Constitution, rather than the principles.
Asked by one delegate about his stance on SB54 and his use of the signature gathering method, Romney responded by asserting that the more people that were involved in the process the better.[8]
In August 2018, Mitt Romney wrote an essay praising John McCain, which was published on his campaign website blog.[9]
2017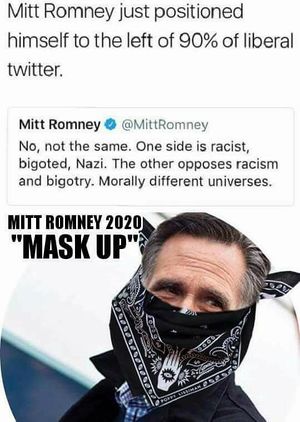 2017 saw Mitt Romney go from sincere but unimpressive political sense, to becoming a solid enemy of sense and good government.
Mitt was floated as a possible replacement for Orin Hatch, which saw some unnecessary drama.[10]
In August 2017, Mitt Romney responded to a speech by President Trump, in which he criticized both sides of an outbreak of violence surrounding a white supremacy rally in Charlottesville, Virginia. On the one side, we had a group of white nationalists, who's message is rightfully unpopular, holding a rally. On the other side, we have Black Lives Matters, Antifa, and others protesting the white nationalist rally. A subset of the protesters began violently attacking the white nationalists, who defended themselves, and a white nationalist drove his car into a group of protesters, killing one person. The latter incident got most of the media attention, and hence, the popular opinion united behind Antifa, Black Lives Matters, and the protesters. In President Trump's remarks, he made reference to an "egregious display of hatred, bigotry and violence on many sides" which inflamed many on the left. Apparently, this included Mitt Romney, who responded by tweeting "No, not the same. One side is racist, bigoted, Nazi. The other opposes racism and bigotry. Morally different universes."[11] Antifa and Black Lives Matters have become well known for inciting violence. This is particularly true of Antifa. While, superficially, they may claim, and even feel that they oppose racism and bigotry, at has become clear that these groups are also perpetrators of their own brand of racism and bigotry. Antifa has often been described as a terrorist group. Hence, Romney's apparent support for the groups, and inability to support the idea that they deserve criticism for the events in Charlottesville, seems particularly unsupportable.[12][13][14]
In October 2017, Mitt Romney described John McCain as "Lincolnesque".[15][16] He also endorsed John Curtis for the 3rd Congressional District race in Utah.[17]
2016
2016 was a politically active year for Mitt Romney.
Trump Anti-endorsement
Mitt Romney made a big announcement of his anti-Trump position.[18]
Donald Trump is very much antithetical to Mitt Romney. Mitt Romney's initial anti-Trump announcement rankled many feathers, including ours. Our general feeling was that, in Romney's naive bumbling way, he came off almost completely ineffective. His anti-endorsement may have helped sink Trump in Utah, but generally, we feel that by endorsing "anybody-but Trump", instead of endorsing a specific candidate, Romney failed to address Trump's main advantage, which was a divided opposition. It felt like a rather pathetic, and frustrating, gesture, even if sincere. We feel that had Romney come out and endorsed the leading opposing candidate at the time, Ted Cruz, his opposition would have been much more effective.
Mitt Romney's son, Josh Romney warned, in September 2016 that Trump could be causing permanent damage to the GOP.[19]
Gary Herbert Endorsement
Mitt Romney endorsed Gary R. Herbert for Utah governor.[20]
Gary Herbert projects a very Romney-like image. It seems to be an persona that is very palatable to Mormon-dominated Utah. He is very status quo, and it is no surprise that Romney endorsed him, even if it is disappointing. We do not believe that Gary Herbert has the integrity we perceive in Romney.
External Resources
References